By Joe Anderson
Bloomington is a special place and 2020 has been an unusual year. COVID has pretty much put the kibosh on everything we had planned to do this past summer, so we were lucky to have the Bloomington Bicycle Club rides as a safe and healthy outdoor activity. It was fortuitous that the penultimate ride of the 2020 road season was listed twenty years ago by National Geographic's inaugural Adventure Magazine (April 2000) as their 65th most exciting adventure in America.

Bicycling became a popular American sport in 1976 after Bikecentenial (Renamed Adventure Cycling in 1990) laid out their TransAmerica Route to celebrate our bicentennial. 1,750 cyclists signed up to ride the entire 4,250-mile route from Astoria, Oregon to Yorktown, Virginia that year. Three years later, in 1979, the movie "Breaking Away" was filmed in Bloomington. I, along with Jeremy and his then six-year-old sister Kristen, were in the stands of the old 10th Street Stadium for the filming of the final race scene. A few years later, in 1986, Greg LeMond became the first American to win the Tour de France. After recovering from a gunshot accident, he won the tour twice more, in 1989 and again in 1990, helping spur the bicycling craze in America. The combination of the bicycling craze and the movie "Breaking Away" provided the connection that caused the National Geographic to inquire about Bicycling in Bloomington. Fred Rose, manager of the Bicycle Garage, provided the BBC map of the Popcorn Ride to the National Geographic staff.

This April 2000 edition of the National Geographic's Adventure Magazine contains a 27-page article entitled "America's Best: The Adventure 100." The introduction to that article states:
Who says you can't quantify greatness? For our first annual Adventure 100, we crisscrossed the United States – from Alaska to Florida – enlisted the country's top adventure writers, and ranked trips, by a complex set of subjective criteria. The result? A countdown of epic hikes, killer climbs, back country rides, roller-coaster raft runs, and much more that we confidently declare to be America's Best.

The top seven on their list include: Rafting the Grand Canyon; Kayaking in Kauai,Hawaii; Dog Sledding in Alaska; Mountain Biking in Colorado and Utah; Hiking the Narrows in Zion National Park; Skiing Corbet's Couloir in Jackson Hole, Wyoming; and Climbing El Capitan in Yosemite National Park. We are indeed in great company!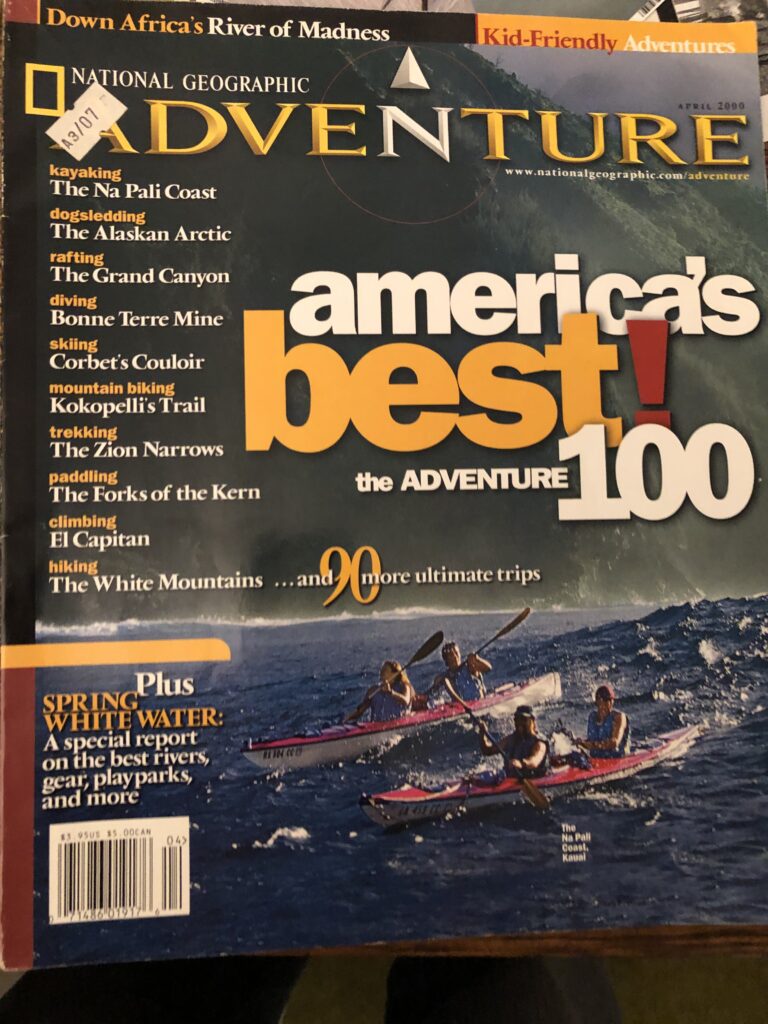 I learned about this Adventure rating by accident while returning from a mission trip in Macas, Equador, twenty years ago. Awaiting our Indianapolis connection in Houston's Bush International Airport, I picked up a National Geographic magazine and came across this little blurb:
Number 65 – Road Biking, Monroe, and Lawrence Counties, Indiana. Remember the 1979 movie "Breaking Away?" Since then, serious road bikers have wheeled along the back roads around Bloomington, including a bucolic 50-mile loop that heads south on Old Route 37 to Harrodsburg, then goes west on Popcorn Road, and continues tacking left on a two-lane country road past small farms, limestone quarries, and quaint towns. – Bicycle Garage (812) 339-3457 www.kiva.net/~bikegarag.

National Geographic ADVENTURE, April, 2000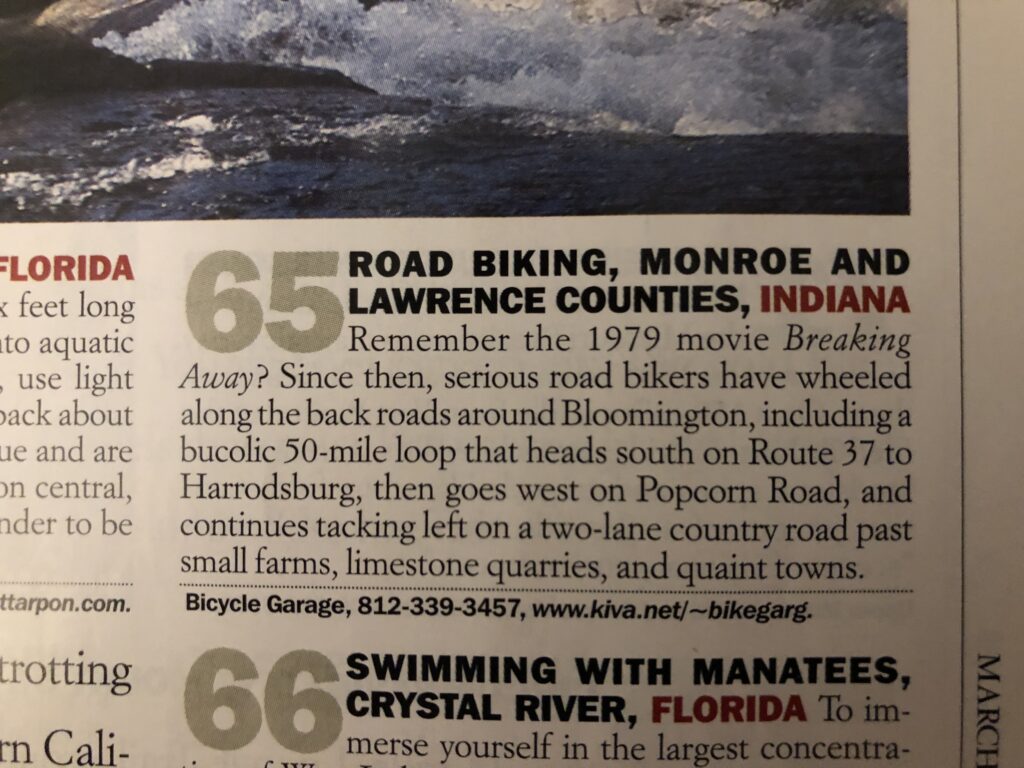 I recognized this adventure as the "Mystery Ride" I had laid out years earlier by giving clues and asking BBC Club members to call with the name of the "Mystery Ride" when they received the BBC Newsletter with the following clues:
Go south on an ancient highway
Turn right at a town named after a biblical king
Turn right onto "Mystery" Road
Identify the B and the O on the historic railroad marker
Turn right on a state highway that is Al Abbott's age
Turn right before the bridge across "Mystery" Creek
Turn left then right to the "Mystery" Church
Rest Stop at the "Mystery" Church with
Gatorade, water and snack – Identify the snack
Head North on a cold weather road
Head east on a rocky road
Head north through a town named after the Star Trek captain
Return to Bloomington on a winner's highway
I want to thank Chris Hahn for mentioning the National Geographic's 65th Best Adventure in America in his teaser for last Saturday's club ride. It allowed me to reminisce about our associations with this little burg, Popcorn, Indiana. Club members Jim and Sylvia Schroeder were married at this Popcorn Church several years ago, and Barbara and I played bridge at Dale and Peggy Humphry's (prominent church members) farm less than a mile from there. Dale hooked up his tractor and hayrack and offered the bridge club members a hayride through the beautiful fields and pastures of his farm. Dale was the past president of the National Cattleman's Association, a prestigious honor which garnered him an invitation to President Reagan's Inauguration. He had the invitation framed and hanging on the kitchen wall. When I asked about the experience, he admitted he was too busy farming to attend, a decision he had regretted for the past twenty years.

Getting back to the Adventure 100 list. Did anyone notice the nice new signs south of Kirksville advertising May Creek Farm? That was a nudist colony back in the day. Had National Geographic known about the nudist colony, the Popcorn Ride would certainly have rated higher than 65th on America's best adventures.