Saturday evening, February 25, marked the BBC's annual meeting and banquet held at the Monroe County Convention Center. Just in time for the 2017 ride season, which begins the first Saturday in March! A really good crowd showed up and, indeed, a couple extra tables needed to be set up to accommodate everyone.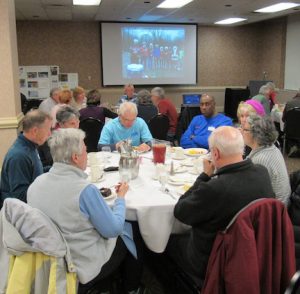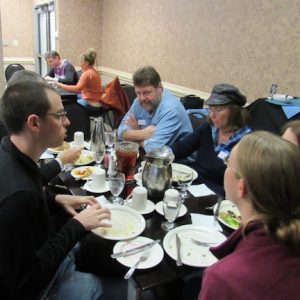 Along with an appetizer salad we had the business meeting portion of the evening, presided over by President Jim Schroeder, including re-election of officers whose 2-year terms were expiring and who agreed to run again. The full list of elected officers now is
President Jim Schroeder
Vice President Warren Smith
Officer at Large Stan Ellis
Treasurer John Kalill
Secretary Kathy Cummins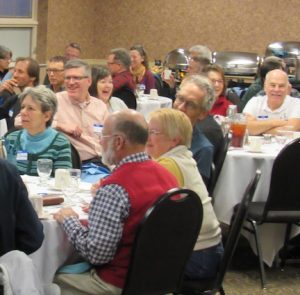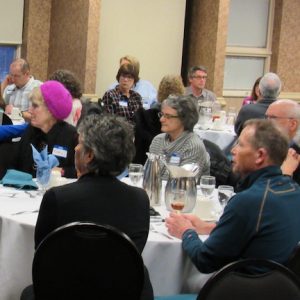 Treasurer John Kalill gave an overview of club accounts, which have healthy balances, to fund RAIN expenses ahead of the event, club functions, grants, and additional funds available to be targeted toward special projects.
Jim Schroeder announced the recipients of this year's grants: Boys and Girls Club of Bloomington, Boys and Girls Club of Mooresville, deCycles, Hoosier Mountain Bike Association, and Stepping Stones. In addition the club awards small grants to municipalities along the route of RAIN.
John Connell, RAIN Director, gave an update on plans for the 2017 Ride Across Indiana, scheduled for July. The main subcommittee chairs include
Volunteers – Yusuf Nur
Registration – Lyle May
Rest Stops – Mark Villanova
Finish Line – John Connell
Finish Timing – Ron Brown
Merchandise – Tammy Berger
Treasurer – John Kalill
Route – John Bassett
Secretary – Kathy Cummins
Lots of volunteers are needed to make the event a success. Contact Yusuf!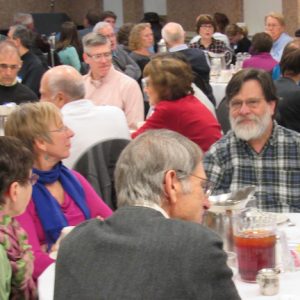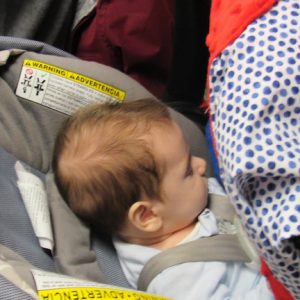 Membership Chair Tammy Thompson then invited members and guests to enjoy a nice buffet dinner.
After dinner Yusuf Nur, chair of the Awards Committee, emceed the awards ceremony, with 13 honorees being presented special plaques suitable for desktop display. Now in its second year, the Awards time has become a special tradition for the club. The presentation of the actual awards was preceded by the announcement of several tongue-in-cheek "raspberries" for several riders who had various misadventures on club rides. Curiously, despite the good attendance at the banquet, none of the raspberry winners were there!
The awards:
Lifetime Biker:

Ron Brown

(Presented by Allan Edmonds)
Most Improved:

Susan Wannamaker

(Presented by Mike Conway)


Martina Allesee

(Presented by Chris Hahn)
Outreach/Advocacy:

Tammy Thompson

(Presented by Christa Toohill)
Volunteer/SAG support: Julie Phillips (Presented by Bruce Phillips)
Good Samaritan: CE Tailor (Presented by Tom Whitehead)
Service Awards:


Tammy Berger

for work as Membership Chair (Presented by Jim Schroeder)


Brett Nelson

for work as Grants Chair (Presented by Jim Schroeder)


Warren Smith

for work promoting mountain biking (Presented by Jennifer Miers)


John Bassett

for work as Ride Director (Presented by Susan Bassett)
Mileage Maximus:

Jim Schroeder

(Presented by Dana Marsh)
Comeback Kid:

Tom Whitehead

(Presented by Steve Galvin)
The meeting concluded with an overview by Jim Schroeder of planning issues related bicycling trails and routes in and around the city.
More photos have been posted by Mike Finger and Warren Smith to the BBC Facebook Group  and to the Evite page for the event.